Tim Debolski
Tim is a general practice attorney who has been representing clients in the Metro Detroit area for the past 30 years. His exceptional case results and unparalleled knowledge of the law have earned him a positive reputation throughout the legal community. Tim works primarily in Wayne, Washtenaw, and Oakland Counties and has assisted countless clients with a wide range of legal needs.
Tim received his undergraduate education at the University of Detroit, and, upon graduation, he quickly got accepted into the John Marshall School of Law to study law. After his legal studies had concluded, Tim chose to remain at John Marshall where received his L.L.M. in Tax Law. Tim passed the bar examinations in both California and Michigan. Eventually, he chose to create a solo practice in Michigan that assisted clients in several different areas of law. Today, the firm successfully operates to provide each and every client with the very best in legal representation.
Tim enjoys being with his family and grandchildren, traveling, and going to watch his beloved Detroit Tigers.
Contact Tim directly on his cell phone at (734) 578-8233. He works to ensure he can meet the needs of his client's busy schedule, offering evening and weekend appointments.
Read some of the Debolski, Debolski, & O'Connor client reviews by clicking on the button below.
Brendon Debolski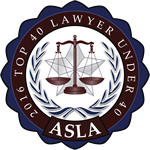 Brendon is a highly-rated, well-regarded criminal defense attorney practicing throughout Metro Detroit.
Brendon grew up in the Metro Detroit area and was raised by his father who is also an attorney, so he believes law runs in his blood. Ever since he was little, Brendon has been fascinated with what his father did for a living and was consumed by the manner in which he helped people and how much his clients appreciated him. This drives him to provide the best possible legal representation available in order to do the same for his own clients.
After being admitted to the Bar of the State of Michigan, he decided to join his father's practice rather than a large corporate firm so that he could be personally involved in each client's cases from start to finish.
Brendon is devoted to delivering the optimal result to his clients in the most effective and affordable manner possible. He takes his job very seriously and takes pride in being honest and hard working.
In order to best serve his clients, Brendon's standard is to work diligently to help individuals whom find themselves in difficult situations. People may often be scared and uncertain of what to expect in legal situations. As such, he strives to put himself in their shoes.
Brendon promises to offer his clients the experience and resources needed to protect their individual rights. He is committed to providing aggressive and affordable legal representation and believes his passion for the law and devotion to excellence makes him a fierce advocate for them.
He is always available to his clients for any of their legal needs or concerns. Please feel free to contact Brendon directly on his cell phone at (734) 772-2880. He offers evening and weekend appointments to fit around your schedule.
Read more about him and what his clients think of him by clicking on the button below.
Shawn O'Connor
Shawn is a well-respected Metro Detroit attorney specializing in the areas of criminal, civil, and family law matters. He also represents individuals with debt and various debt-related issues. Shawn comes from a blue-collar background which aids him in understanding the problems his clients face on a daily basis.
Much of his legal experience comes from working with the Wayne County Prosecutor's Office, where he specialized in criminal preliminary examinations and eventually felony trials. Shawn's work there subjected him to a wide variety of experience that allowed him the opportunity to participate in many complex and unique areas of criminal law. After several years with the Wayne County Prosecutor's Office, Shawn decided to pursue a career in private practice in order to be more personally involved in each one of his client's cases.
Shawn prides himself on his professionalism and he consistently strives to provide each and every client the best legal representation possible. Shawn takes an unwavering, results-driven approach to the law and promises to be a fierce advocate for his client's rights.
Contact Shawn directly on my his phone at 313-247-7623. He offers evening and weekend appointments.
Steve Bayyouk
Steve is a general practice attorney whose main areas of practice are landlord/tenant and criminal law matters.  He strives to offer the best and most effective legal services to all his clients.
His enthusiasm to practice law, coupled with his desire to deliver the best possible outcome for his clients, has earned Steve the respect of his clients, peers, and adversaries.
Steve also enjoys spending time with his friends and family, traveling, and playing sports.
He offers weekend and evening appointments. Feel free to contact Steve directly on his cell phone at (734) 716-6177.
Nicholas Opalewski
Nicholas is a Metro Detroit attorney specializing in the areas of probate and estate planning, bankruptcy, and general civil matters. Nick came to our firm after 5 years in the United States Army, were he served 2 tours of duty in Iraq. He believes that this experience helps him perform better under the pressures that can be brought by litigation.
Nick attended the Western Michigan University's Thomas M. Cooley School of law, which he graduated from in 2014. He took the Michigan bar shortly thereafter, and received passing results in November of 2014. During his time in law school Nick took a special interest in probate and estate planning along with bankruptcy, which eventually helped him tune his specialties to these practices.
Nick works diligently and devotes himself to each case to provide his clients with the absolute best in legal representation.
Contact Nick directly on his phone at 734-837-5378. He offers evening and weekend appointments.